performance and composition
intuition and experience in practice
Up Jumped Three was conceived as a 'reunion' project for Bryan and Frank Southecorvo, returning to a creative relationship after several years apart, after the dissolution of their former trio, 'Done For The Evening.' Guitarist/Composer, Tim Winter, joined soon after the creation of the project, and brings another unique compositional and performance voice. The focus of the group is on all original modern music, mostly in the 'jazz' idiom, although forays into other styles are common as well. Though the band is at its core a 'drummerless' trio, the group expands to a special quartet on occasion to give an added dimension to the compositions and depth of sound. 3 studio albums are available – 2016's 'Eleven Dialogues', 2017's 'Crosstalk', and the new 2020 self-titled release.
Up Jumped Three on ReverbNation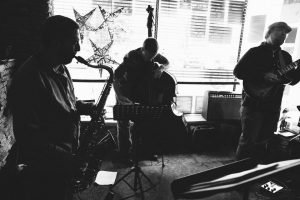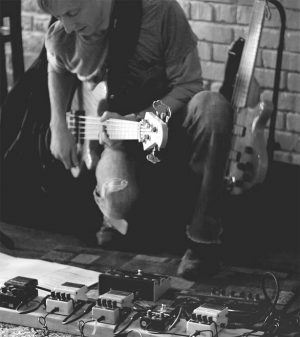 solo electric & double bass explorations
exploring rich and unique textures and solo voices
Composing and performing on solo electric or double bass presents a number of challenges. How to make a typically 'background' instrument sing and make a statement has become easier over the years, thanks to tireless innovators who have shown that the bass can stand on its own as a solo instrument. For Bryan, the focus in solo performances (usually with a looper and other effects/textures) is less about pyrotechnics and flash, and more about texture, rhythm, melody, space, and emotion. Bryan has released 6 solo bass albums – 2014's 'Transference', 2017's 'New Dreams', 2019's solo double bass EP, "Questions For A new Day', 2020's 'sketchbook 2020', 2021's 'farewell to a friend', and new for 2022, 'trading futures' and 'bright times'.
Bryan White – Bassist on BandCamp
Bryan White – Bassist on ReverbNation
selected discography
a look back at past projects and recordings
CURRENT –
'Up Jumped Three' – jazz trio
Solo Bass Explorations
Freelance Work

Notable Groups-
(Past or on Hiatus…)
The Chronology Trio – 2002-2006
Kellin Watson Band – 2003-2006
Done For The Evening – 2006-2010
Lyndsay Wojcik (Trio/Duo) – 2007-2010
Nikki Talley Band – 2008-2011
Leigh Glass & The Hazards – 2007-2012
Brushfire Stankgrass – 2006-2013
Selected Discography-
Kellin Watson – Red Flag – 2005
Done For The Evening – Live Colours 2006
Steel String Theory – North Buncombe Sessions – 2006
Lyndsay Wojcik – Local Honey – 2007
Robert DiMaio – The Beauty Junkies – 2007
Peter Bergquist (Tallpaw) – Branded – 2008
Brushfire Stankgrass – One For The Salamanders – 2010
Leigh Glass & The Hazards – The Drone – 2010
Nikki Talley – Beautiful Charmer – 2010
Mended Heart Records 'Band Together' 2011 – with Brushfire Stankgrass (Panthertown)
Leigh Glass & The Hazards – Something In The Water – 2011
Brushfire Stankgrass – Microclimates – 2013
Bryan White (solo bass) – 'Transference' – 2014
Up Jumped Three – Eleven Dialogues – 2016
Bryan White – New Dreams – 2017
Up Jumped Three – Crosstalk – 2017
Bryan White (solo double bass) – 'Questions For A New Day' – 2019
Up Jumped Three – Self-Titled – 2020
Bryan White – Sketchbook 2020 – 2020
Bryan White – Farewell To a Friend – 2021
Bryan White – Trading Futures – 2022
Bryan White – Bright Times (solo pizzicato double bass) – 2022